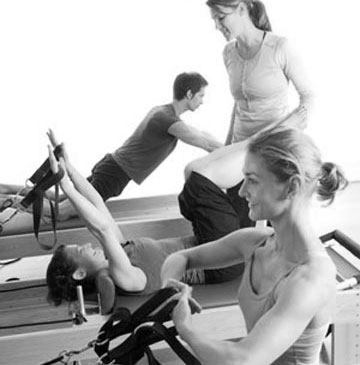 These are held in our adjoining machine studio.
The maximum number in the class is 4, and you will need to have a basic knowledge of Pilates exercises before joining a machine class. This can be obtained either through a Beginner mat course; or through private 1:1 lessons.
Our studio is equipped with 4 Reformers, two Cadillacs, 2 Chairs and a ladder barrel. We also use wobble boards and arc barrels to assist our clients.
Working on the machines adds an extra dimension to your exercise and isolates individual muscles. You are constantly working against resistance provided by the equipment which in a mat class is provided by your own body weight.
Contact us
If you would like more information or wish to enrol, contact [email protected]
Perfect Fit Pilates
Great Hadham Golf & Country Club
Great Hadham Road
Near Bishops Stortford
Herts SG10 6JE
Telephone: 01279 843555
Mobile: 07801 442475
[/et_pb_column]
Ask us a question or send a message
 This is the current timetable for September 2020 for the next 6 week block.
Colour key for types of class
Studio & Zoom
Just Zoom from Home
Just Studio
Monday  
9.15-10.15am Inter/Advanced Mat Class: Ro
10.30-11.30pm Seniors Mat Class: Ro
7.00-8.00pm Intermediate Mat Class:  Julia                 
Tuesday
9.30-10.30am Intermediate Mat Class: Ro
10.15-11.15am Beginner Class: Studio  Reformer: Jess       
11.30-12.30pm Beginner  Mat  Class: :                            Jess 
6.30-7.30pm Intermediate Mat Class: Jess
6.00-7.00pm Intermediate Mat Class: Shelley
7.15-8.15 pm: Intermediate Mat Class:  Shelley
Wednesday
9.30-10.30am Mixed Ability  Mat Class: Susan     
9.30-10.30am Studio Reformer  Class:     Shelley
6.00-7.00pm Mixed Ability Mat Class:   Shelley
7.15-8.15pm Inter/Advanced Mat Class :  Shelley
Thursday
9.15-10.15am Inter/Advanced Mat Class:  Ro 
10.30-11.30am Slower Pace Class:          Ro
11.45-12.45pm Slower Pace Mat Class : Ro
5.00-6.00pm Studio Reformer Class:  Jess
6.30-7.30pm Intermediate Mat Class: Jess     
Friday
9.30-10.30am Intermediate Mat Class: Shelley
9.30-10.30am Intermediate Mat Class:   Ro 
10.45–11.45 Studio Reformer Class: Shelley
12.00-1.00pm Studio Reformer Class: Shelley
Saturday
9.30-10.30am Mixed Ability Mat Class: Janice
10.15-11.15am Studio Reformer Class: Shelley
Sunday
9.00-10.00am Studio Reformer Class: Jon      
10.15-11.15am Intermediate Mat Class: Jon 

Please call Ro to book a place, or find out more about the classes or 1:2:1 or 2:2:1 sessions