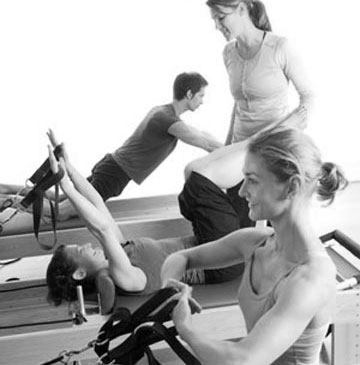 These are held in our adjoining machine studio.
The maximum number in the class is 6, and you will need to have a basic knowledge of Pilates exercises before joining a machine class. This can be obtained either through a Beginner mat course; or through private 1:1 lessons.
Our studio is equipped with 6 Reformers, two Cadillacs, 2 Chairs and a ladder barrel. We also use wobble boards and arc barrels to assist our clients.
Working on the machines adds an extra dimension to your exercise and isolates individual muscles. You are constantly working against resistance provided by the equipment which in a mat class is provided by your own body weight.
  Our Autumn timetable 2023. MAT CLASSES  ARE STILL BEING ZOOMED EITHER FROM THE STUDIO OR FROM HOME, AND  CLASSES IN THE STUDIO ARE  LIVE  FOR THOSE WHO WISH TO ATTEND. We will send recordings for any missed classes.
Monday  
9.30-10.30am Inter/Advanced Mat Class: Ro :   Zoom Only
9.30-10.30am Studio Reformer Class: Julia
10.40-11.40am Gentle Mat Class (returning after half term): Julia
10.40-11.40am Beginner Studio Reformer Class: Julia
5.55-6.55pm  Improver  Class: Julia  Live in the Studio 
7.00-8.00pm Intermediate Mat Class:  Julia    Live in Studio & Zoom          
Tuesday
9.30-10.30am Intermediate Mat Class: Ro   Live in the Studio & Zoom    
6.10-7.10pm Intermediate Mat Class: Shelley     Live in Studio & Zoom
7.20-8.20 pm: Intermediate Mat Class:  Shelley    Live in Studio & Zoom
Wednesday
4.00-5.00pm  Studio Reformer Class: Shelley
6.30-7.30pm Mixed Ability Mat Class:   Shelley    Live in Studio & Zoom
7.35-8.35pm  Studio Reformer Class:    Shelley
Thursday
9.15-10.15am Inter/Advanced Mat Class:  Ro     Live in Studio & Zoom
10.25-11.25am :   Slower Pace Mat Class: Ro       Live in Studio & Zoom
 11.30-12.30pm Studio Reformer Class:    Ro
Friday
9.30-10.30am Intermediate Mat Class:   Shelley   Live in Studio & Zoom
9.30-10.30am Intermediate Mat Class:   Ro     Zoom  only
10.40–11.40 Studio Reformer Class:   Shelley
Saturday
9.30-10.30am Mixed Ability Mat Class: Asena    Zoom only
10.10am-11.10am Studio Reformer Class: Shelley
11.20-12.2

 
Studio Reformer overspill Class: Shelley
Please call Ro to book a place, or find out more about the classes or 1:2:1 or 2:2:1 sessions. These fit around our classes in the Studio
[/et_pb_column]